UPDATE: The 15th Anniversary of Stuff A Truck shattered records filling two trucks instead of the normal one. The event raised 26.7 Tons of Food and $16,068.19 for the Central Vermont Salvation Army Emergency Food Shelf!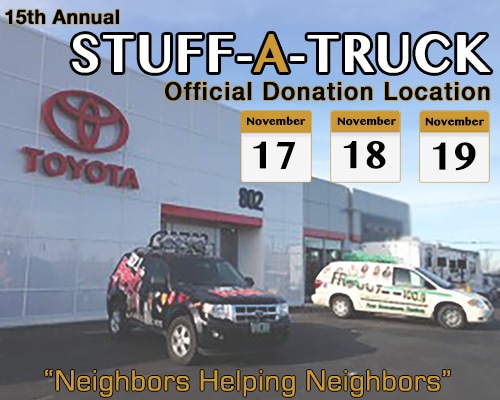 Stuff-A-Truck 2016
T
win City Sub
aru
& 802 Toyota are thrilled to return as hosts for Frank FM's 15th annual Stuff a Truck event, which will be held right here next to the Berlin Mall from
November 17 - 19, 2016 
at Twin City Subaru &
802 Toyota Scion.

Frank FM's TJ Michaels and Froggy's JD Green again invite Vermonters to come and "Stuff the Truck" with canned foods, non perishables and monetary donations to help fellow Central Vermonters in need. Donations can be brought right to the truck any time of day during the event, and pre-event food drives at your office or school are encouraged as well!
The radio show hosts will stay outside and brave the elements 24 hours a day until the truck is full,
which will be quite the task this year! This 15th annual food and funds drive aims to break last year's record and
raise more than $15,000 and 18.7 tons of food!
It's critical support for the local Salvation Army's Emergency Food Shelf, which needs your help now more than ever.

A few quick facts about hunger in Vermont:
The Salvation Army reaches over 10,000 Vermonters, and counting.
Families seeking food assistance locally is up 115% over the last two years.
According to the USDA, 1 in 5 Vermont children are hungry.

13% of Vermont households are struggling with hunger or "food insecurity."
8,200 Vermonters will access a food shelf in Vermont this week.
As of Nov. 1, 2013 Vermonters suffered more cuts to the 3 Squares Program.

Last year, this event raised more than 18.7 tons of food and $15,000 in monetary donations. Even though we raised more food and funds than normal, this incredible feat of community support normally has supported the Salvation Army Emergency Food Shelf for the entire year. However, due to rising unemployment and tougher economic conditions, the Salvation Army is helping and feeding more and more Vermont families. The Food raised last year supported the Emergency food shelf through the month of September. Tougher times mean more need. We'd like to help the Salvation Army make it through 2016 without an interruption of services but your involvement is crucial to that goal!
We hope you will, along with your friends, family, and associates, take a few minutes to pick up a couple items from the store, clean your pantry of unwanted non-perishable foods, or stop by to make a financial donation to this important cause.
Truly about Neighbors Helping Neighbors: all donations collected during Stuff a Truck 2016 will stay right here in Central Vermont.
See you at the truck November 17 - 19
!
"With the weakened economy, energy costs being higher, low income families are under more pressure to decide between food and heat or food and medicine this winter. That's a choice that no one should have to make. In the Green Mountain State we take care of our own. I can't stress how important this year's event is!" 

We don't go home and we go on an emotional roller coaster ride. Along with all the outpouring of support and goodwill, we hear very touching stories from the people who donate who either know someone who has helped or at one time in their lives was helped by the salvation army."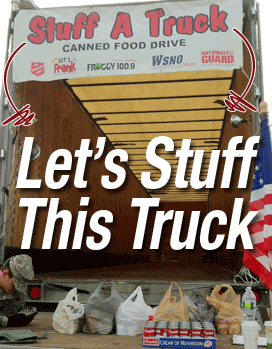 The following items are excellent, non-perishable choices for Stuff a Truck donations:
Canned fish-tuna, salmon, sardines, etc.
Peanut Butter
Cereal-all varieties
Canned fruits-all varieties
Canned vegetables-all varieties
Canned meat-beef, pork, chicken, etc.
Canned soups and chili
Boxed meals-Macaroni & Cheese, Hamburger Helper, etc.
Pasta and pasta sauce-all varieties
Diapers-All sizes
Pet food-all varieties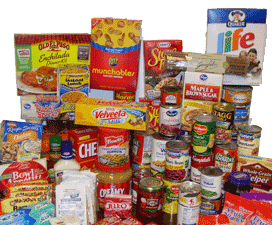 Stuff a Truck 2016 
Made Possible in part by: